Laptops, Tablets and IT Asset Labels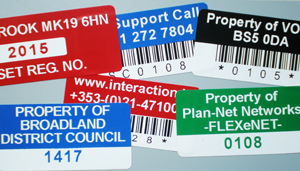 Laptops, tablets and other IT equipment make up some of the most common and costly to replace assets both in the public and private sectors. This is why marking these assets is particularly important both for insurance recording and theft prevention.
Avoid Going Cheap
The types of plastic surfacing used on most IT equipment can be difficult for cheaper produced ID labels to adhere to.
Instead look for a quality ID or asset label made with this type of equipment in mind like our vinyl asset tags/labels.
Vinyl asset tags are suitable for most applications and are much higher quality than cheaper paper versions. They will adhere to most surfaces and form a high strength bond.
The maximum strength of vinyl asset labels is attained within a 4 hour + period where the glue on the label hardens and makes the tag impossible to remove in one piece.
Other Asset Label Materials
In addition to Vinyl IT and laptop asset tags, Express Labels also provide asset tags in metallised polyester, aluminium foil and tamper evident materials which are also high quality and versatile alternatives for computer and IT asset tagging.
Express Labels allows you to quickly design your own asset IT asset tags with barcodes and sequential numbering included at no extra cost.
Start designing your own asset labels today!
For a wider range of asset labels visit www.idassetlabels.co.uk or for details on asset id marking and metal identification plates visit www.idmark.com.
Choice of Materials