Aluminium Foil Labels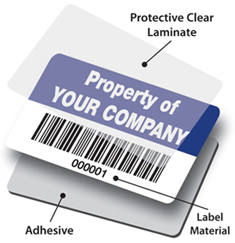 Need a high-performance ID asset label solution for extreme situations?
Aluminium foil labels are a highly durable premium label material suitable for identification and asset labels for both indoor and outdoor use.
Dantech uses a 0.05mm aluminium foil with the best available 3M hi-tenacity powerful adhesive which will adhere to most surfaces and bond to both high surface energy (HSE) and low surface energy (LSE) plastics, powder coatings and slightly oily metal surfaces.
A clear laminating foil is applied on top of the printing to help protect the printed image against abrasion and solvents and provide heavy-duty protection.
Dantech aluminium foil labels have a very high-temperature resistance, up to 150° C short term, and down to - 40° C and can only be described as a universal solution to suit most asset label requirements.
Our aluminium foil label material and its adhesive have a highly rated chemical resistance and tested with many common chemicals, water and oil.
How to apply the labels?
Labels must be applied to a clean, dry surface – full instructions are included with your order.
All prices per 100 labels
| Ref / Qty | 38 x 19mm | 50 x 25mm |
| --- | --- | --- |
| 100 (min) | £142.30 | £149.40 |
| 300 | £77.85 | £80.55 |
| 500 | £66.30 | £68.40 |
| 1000 | £46.40 | £48.40 |
| 2000 | £39.75 | £41.25 |
Choice of Materials