About Express Labels
Expresslabels.co.uk is a division of Dantech.
Why invest in Dantech?
Dantech has printed and supplied labels since 1990 and are experts in asset labels, tags and security marking.
Our continuous investment in the latest technology and the ability to understand your requirements is the key to our success.
Today we are amongst the leaders in the field of asset labelling solutions and customised ID requirements for schools, businesses and industry.
Our goal has always been to supply top-quality products backed by leading, branded material manufacturers.
Call Dantech on 01354 688488 or Design Asset Labels online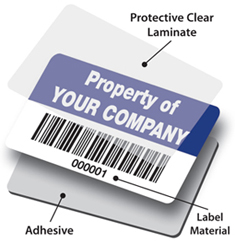 Dantech History and Asset/Security Marking Products
Dantech entered the security marking market in 1995, introducing the ID MARK - security marking system utilising precision cut stencils with a chemical paste to etch a company name and asset number into the surface of office equipment and IT equipment.
This stencil system is still being used successfully today all over the world, along with its sister product ID Silver Mark which gives a UV stencil marking suitable for shiny surfaces like iPads and tablets.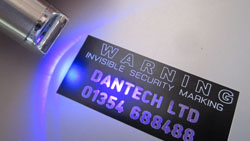 Our knowledge and expertise are extensive and renowned by our many customers, including:
companies
schools and universities
health sector
police
local and central governments
manufacturing plants and warehouses
All Dantech asset marking products can be supplied with custom information in the form of sequential numbering, barcodes or 2D DataMatrix/QR codes.
Express labels/Dantech promise to provide the best asset labels and security marking products available for your requirements, plus outstanding customer service.
We have built our business solely on customer satisfaction - not aggressive selling!
We aim to provide real value through asset marking solutions that last - and will continue to meet the challenges of new customers and our growing list of loyal customers.
Call Dantech on 01354 688488 or Design Asset Labels online

Choice of Materials