Asset Labels and Asset Labelling
Asset labels are an identification tag that can be attached to a companies assets such as a laptop, mobile or other important equipment or property.
These labels contain key information including a company or organisation name plus an identification number, barcode or data code.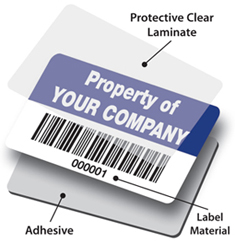 Quality asset labels are very hard to remove creating a permanent ID mark helping item tracking. They also deter theft and help to prevent important assets from being lost or given without proper approval.
Labelling your assets also helps organisations keep an accurate record of not only how many items they have and their value for insurance but also their condition and were relevant to their maintenance.
Express Labels allows you to quickly design your own asset labels in a variety of quality materials including:
Start designing your own asset labels today!
For a wider range of asset labels visit www.idassetlabels.co.uk or for details on asset id marking and metal identification plates visit www.idmark.com.
Choice of Materials